Kaestner Auto Electric features the Axios™ Customizable Light Bar made by ECCO®. Axios is the first Modular LED Lightbar System!
We are the only ECCO® distributor in Wisconsin that can build the modular light bar systems on-site to your specifications with zero lead time! Or we can assemble your light bar at our shop, and quickly ship or deliver it to your location.
If you are looking for new truck light bar options, or looking for off road vehicle lighting—go with quality! Choose Kaestner to build your new Axios Modular LED Light Bar to the required state specifications, within your budget, and to your preferences.
Click here to read more on Axios™ Light Bars: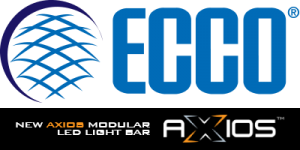 Talk to Kaestner today to get a customized Axios™ Light Bar installed on your vehicle or vehicle fleet!
About Axios Modular LED Light Bar Systems
Towing companies, Municipalities, as well as Fire, Police, and Construction Companies have trusted Kaestner to assemble, install, and/or deliver their Axios Light Bars by Ecco. We custom assemble each modular light bar to the needed specifications.
Delivery Throughout Wisconsin
Kaestner will deliver your light bar throughout Waukesha, Milwaukee, Racine, Kenosha, Ozaukee, Sheboygan, Jefferson, Fond Du Lac, Appleton, Beaver Dam, Washington County, Dodge County, Dane County, and Janesville!
Call Us Today for your Discount!
Call Kaestner today at 262-547-9600 or use the contact form at the right of this page to order your Axios Light Bar today!
Axios Lightbars For Sale By Number and Description
We carry inventory or can quickly order the following Axios™ parts:
14-00001-E: Lightbar: Axios, 48″, 12 directionals, 2 rear worklamps, 2 alley lights 12-24VDC

14-0002-E: Lightbar: Axios, 54″, 12 directionals, 2 rear worklamps, 2 alley lights 2 STI, 1 Safety Director, 12-24VDC

14-00003-E: Lightbar: Axios, 60″, 14 directionals, 2 rear worklamps, 2 alley lights 2 STI, 12-24VDC

14-0004-E: Lightbar: Axios, 72″, 16 directionals, 2 rear worklamps, 2 alley lights 2 STI, 12-24VDC

14-0005-E : Lightbar: Axios, 39″, 8 directionals, 12-24VDC

14-0006-E : Lightbar: Axios, 48″, 12 directionals, 1 Safety Director, 12-24VDC

14-0007-E: Lightbar: Axios, 54″, 10 directionals, 2 rear worklamps, 2 STI, 12-24VDC

A1401RMK : Lightbar Mounting Kit: Axios, universal headache rack

EZ1401A : LED Warning Module: Axios, directional, 12-24VDC, amber

EZ1401B : LED Warning Module: Axios, directional, 12-24VDC, blue

EZ1401C : LED Warning Module: Axios, directional, 12-24VDC, clear

EZ1401G : LED Warning Module: Axios, directional, 12-24VDC, green

EZ1401R : LED Warning Module: Axios, directional, 12-24VDC, red

EZ1402A : LED Warning Module: Axios, 360° beacon, 12-24VDC, amber

EZ1402B : LED Warning Module: Axios, 360° beacon, 12-24VDC, blue

EZ1402C : LED Warning Module: Axios, 360° beacon, 12-24VDC, clear

EZ1402G : LED Warning Module: Axios, 360° beacon, 12-24VDC, green

EZ1402R :  LED Warning Module: Axios, 360° beacon, 12-24VDC, red

EZ1403AL : LED Auxilary Module: Axios, alley light, 12-24VDC

EZ1403WL : LED Auxiliary Module: Axios, worklamp, 12-24VDC

EZ1404 : LED Auxiliary Module: Axios, stop-tail-indicator, 12-24VDC

EZ1405 : Controller: Axios, 12-24VDC

EZ1406C : Lens: Axios, end, clear

EZ1416C : Lens: Axios, 39″ lightbar center, clear

EZ1407C : Lens: Axios, 48″ lightbar center, clear

EZ1408C : Lens: Axios, 54″ lightbar center, clear

EZ1409C : Lens: Axios, 60″ lightbar center, clear

EZ1410C : Lens: Axios, 72″ lightbar center, clear

EZ1416O : Lens: Axios, 39″ lightbar center, opal

EZ1407O :  Lens: Axios, 48″ lightbar center, opal

EZ1408O :  Lens: Axios, 54″ lightbar center, opal

EZ1409O :  Lens: Axios, 60″ lightbar center, opal

EZ1410O :  Lens: Axios, 72″ lightbar center, opal

EZ1411-48 : LED Auxiliary Module: Axios, center illumination, fits 48″ lightbars, 12-24VDC

EZ1411-54 : LED Auxiliary Module: Axios, center illumination, fits 54″ lightbars, 12-24VDC

EZ1411-60 : LED Auxiliary Module: Axios, center illumination, fits 60″ lightbars, 12-24VDC

EZ1411-72 : LED Auxiliary Module: Axios, center illumination, fits 72″ lightbars, 12-24VDC

EZ1412 : Junction Box: Axios, 12-24VDC

EZ1413 : Cable: Controller extension, 8′

EZ1413-48 : Cable: Controller extension, 48′

EZ1414 : LED Warning Module: Axios, Safety Director, 12-24VDC

EZ1415 : Controller Bracket: Axios, suction cup

EZ1417 : Lens Latch: Axios, locking

EZ1439 : Lightbar Chassis Kit: Axios, 39″ 12-24VDC

EZ1448 :  Lightbar Chassis Kit: Axios, 48″ 12-24VDC

EZ1454 :  Lightbar Chassis Kit: Axios, 54″ 12-24VDC

EZ1460 :  Lightbar Chassis Kit: Axios, 60″ 12-24VDC

EZ1472 :  Lightbar Chassis Kit: Axios, 72″ 12-24VDC